Old Faithful – 86 King St, Perth
http://www.oldfaithfulbar.com.au/
This place is another of my favourite small bars in Perth and I think it might just be my favourite food place in Perth as well. Old Faithful, in my opinion, is the absolute best Beer & BBQ place I've ever been to. If you love slow smoked meats then this is the place for you, and you should be able to afford it, even on a backpacker budget. I don't think I'm the only one that loves this place either as they won Small Bar of the Year 2014.
About 10-15 minutes walk from our hostel is Old Faithful. Located on King St (down Murray St, towards West Perth), it's pretty easy to miss unless you know what you're looking for. If you're heading down Murray St towards West Perth, King St is a small street running perpendicular to Murray St. Turn right into King St and it's down the street on the right hand side, almost all the way to Wellington St.
The best thing about this place is the smell. Old Faithful is famous for their smoked meats  and the smell drifts out into the street; you'll start drooling before you even walk through the door. When you do enter, the smell is unreal and your mouth will literally flood with saliva (or maybe that's just me).
Seating at Old Faithful is mostly communal, with big wooden tables. They don't take reservations, so you might have to hang around for a little bit, but generally waiting times are short. The decor is great, modern, but not pretentious. This is a place where you can relax and really dig in and enjoy your food, without it being fussy.
Pick what you want from the menu and head up to the counter at the back to place your order. You're generally served straight away as all the meat, salads and other bits and bobs are ready to go straight away. Food is served on a big tray, with the food being loaded onto greaseproof paper or into little cups.
I can't rave enough about the food. Obviously, if you aren't a big meat fan, or aren't a fan of smoked food then this place isn't for you. If you are, then I really don't think that the menu will disappoint you. Food is very reasonably priced for the quality and portion sizes and the flavours of the smoked meat are out of this world. My personal favourites are the Beef Fingers, Pig Ribs, Smoked Links and the Cornbread with Maple Butter. When I say favourites, what I really mean is that these are the items I usually order. Honestly, everything on the menu is damn good and I've never been disappointed by any of it.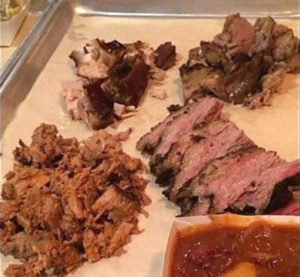 A small selection of the meats available from Old Faithful
The home-made BBQ sauces on each table are the perfect accompaniment to the meat and are incredibly tasty.
So far, I've focused on the food, which you might think is strange since this place is a bar. The only reason I have done so is that to walk in here and leave without at least trying the food is almost criminal. It is that good.
That's not to say that the drinks aren't good! Old Faithful serves some amazing beer and cocktails. They have a great selection of Feral Beers (one of the best local craft beers around) on tap, including the usual suspects, Hop Hog and Sly Fox (my two favourites) as well as other beers and usually at least one cider. The beer really complements the BBQ, which was highlighted for me when I attended a special evening jointly hosted by both Old Faithful and Feral. You really need to try the combination of these beers and this BBQ.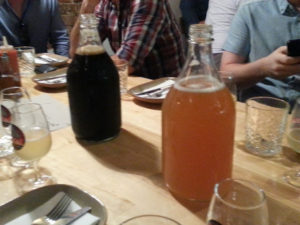 Doesn't the beer look good?
The cocktails are well crafted and also complement the BBQ well, although for me, personally, I think that the beer just sits better with the BBQ.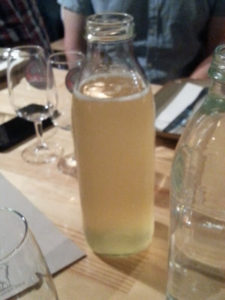 Watermelon Warhead – Feral Brewery
I really, really recommend this place and I hope this little write-up gives you some incentive to go and try it because I can't recommend it enough. Don't be afraid to dig in with your hands, in my opinion you should dive in and enjoy the food with as many senses as you can. If you want to take me with you as well to show you the way and recommend some things to try, I'll be happy to do it for the price of my meal!