In Perth we're lucky enough to have some excellent small bars, all just around the corner from The Emperor's Crown. Slowly, one by one, we are going to list our favourites to give you something new to try while in Perth.
Mechanics Institute – Rear 222 William St, Northbridge
mechanicsinstitutebar.com.au

This is one of my favourite spots for a quiet drink. The entrance is down a little laneway just off James St, between the State Library and William St. Head up some steps and onto the deck and you're there.
They serve some great drinks (and also food, mainly burgers, from Flipside down below). They have a good selection of craft beers, both local and international and mix up some great cocktails. They also serve booze and apple, basically your choice of alcohol with a freshly blitzed apple thrown in on top – refreshing, possibly healthy and maybe a little dangerous!
The staff are absolutely awesome, great at cocktails, friendly people with just the right amount of sarcasm added in.
If you're a smoker, there's a whole portion of the deck for smokers, allowing you to have a smoke while you drink, which is something of a rarity in Perth. It's still perfect for non-smokers though as there is plenty of non-smoking seating available!
Still on my list to try is the Mechanics Institute Bloody Mary (pictured below). Looks like a perfect hangover drink to me…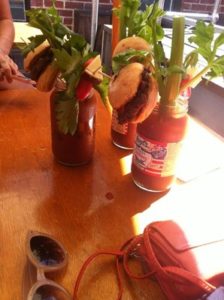 This place is definitely worth trying, just trust us on this one.